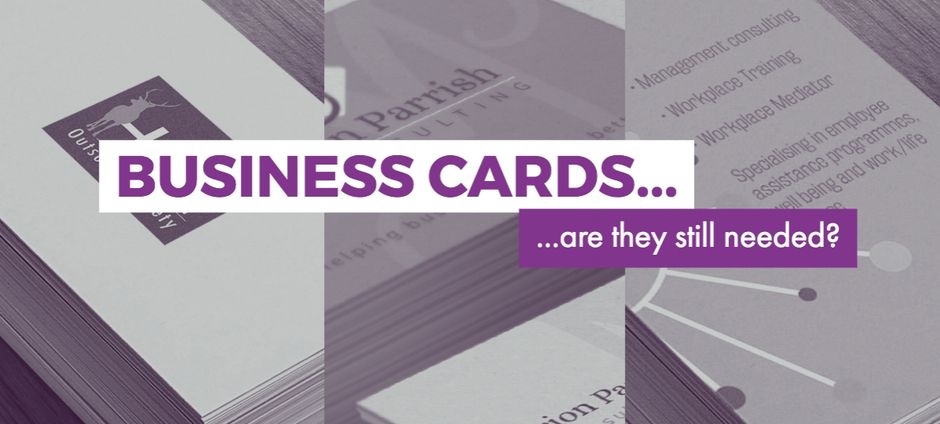 YES! is the very quick answer, but it would be a very short blog if I just left it at that, so let me explain why in more detail.
Our lives are driven by digital technology from emails, organising meetings through to online networking .  However, business cards are much harder to replace.
These small 85 x 55mm pieces of card are still an important weapon in your branding tool kit, they hold information that can be used time and again even long after you have left the room.
We all know that digital interaction can be an impersonal experience, but face to face networking is where real conversations take place and where we really start to build closer connections and business relationships.  Networking is how we grow our know, like and trust connections which are not started by having a phone in our hand. The physical act of handing over a business card and making eye contact starts all kinds of introductions and conversations.  It is our initial way into making contact with potential new clients or referrals.
All marketing avenues have their place in our business and do the great job of telling our brand story and generating leads, but having business cards on you at all times enables you to react to any opportunity that may come in your direction.  A handshake, a brief conversation and a business card exchange is just as effective as any big marketing campaigns. So always have some in you wallet, mobile phone case, purse or bag so you are prepared for that next encounter.
As I mention quite a bit in my own marketing messages 'First impressions matter' and business cards are the first impression that anyone has of your brand and your business.  A business card does more than just give your name and contact details it gives the look and feel of what your business is about and what it stands for.  Now this doesn't have to have reams and reams of information to achieve this.  Its is all about how the business card looks, its quality, the strapline/simple message, etc.  How many business cards have you been given in the past and you think well that feels cheap, or there is too much information so you don't know what is important, or worst still you have been given a piece of paper with a few details written down. I know I have!!  
What was your first impression about that business and the person that handed it to you?  That first impression will always stay with you and trust me you won't forget.  None of us want that to be the case with our own business.  Business cards will show you are prepared and ready for business and in turn give confidence in your abilities as a business owner.
The business card your potential new client leaves the room with is a  memorable, clear, good quality object of your brand that will stay with them and become instantly recognisable when they connect with you on other platforms or other meetings.   Helping them recognise your business and keeping you at the forefront of their minds for when they need or recommend your services in the future.  Good business cards are passed on and shared which means your they will network for you in your absence. 
Next time really look at the business cards you are handed and note your conscious response to what you are holding and seeing, and then look at your own business cards and then ask yourself are they really giving the best first impression of your business that will continue to speak in your absence, portraying your brand and business with out you having to be there to explain.
So don't rush for the digital version of any business card just yet or try and bypass straight to social media as you are missing out on a powerful marketing tool that will always help start actual conversations and work for you long after the meeting is finished.
Do you think business cards are still needed? Comment below and let me know your thoughts.